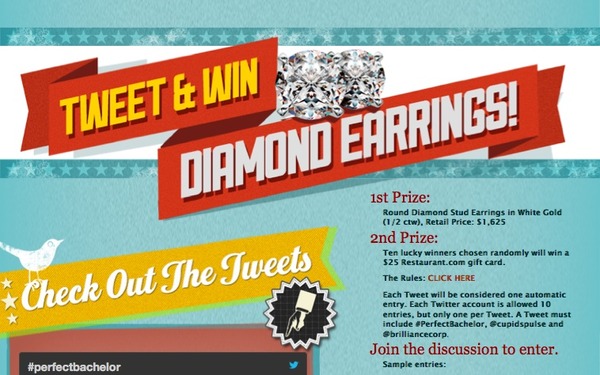 Are you a fan of the Bachelorette?

Do you already have a favorite? Brilliance eco-luxe jewelry and

CupidsPulse.com

sure have! They teamed up to launch 'The Perfect Man Contest,' for a chance to win a pair of Brilliance diamond stud earrings worth over $1600.
Celebrating the ninth season of "The Bachelorette." One lucky winner will win a pair of Brilliance's round diamond stud earrings worth over $1600, and ten lucky second prize winners will also win a $25

Restaurants.com

giftcard.
To enter, you simply have to tweet the characteristics that make up their perfect man, along with #PerfectBachelor, @cupidspulse, and @brilliancecorp.
What trait does your perfect man have??
Prize Drawing:
On or about June 27, 2013, the Sponsor will select potential winners in a random drawing from among all eligible entries received. The odds of being selected depend on the number of entries received. The Sponsor will attempt to notify the potential winner via telephone or email on or about June 27, 2013. If the potential winner cannot be contacted within five (5) days after the date of the first attempt to contact him/her, the Sponsor may select an alternate potential winner in his/her place at random from the remaining non-winning, eligible entries.
CupidsPulse.com is a first-of-its-kind relationship site that takes the latest celebrity news and repackages it to help singles and couples navigate their love lives. What sets

CupidsPulse.com

apart from traditional gossip sites is its use of entertainment news as a catalyst to spark conversation about relationship topics such as marriage, divorce, pregnancy and being single, while offering advice to those who may be in a similar situation as their favorite celebrity.
In addition to celebrity news,

CupidsPulse.com

features romantic movie and book reviews, author Q&A and date ideas, and gathers research and opinions from well-known psychologists, dating coaches and relationship experts who have their fingers on the pulse of love in today's culture.
About Brilliance Eco-Luxe Jewelry
Over the past two decades, Brilliance has built a reputation as one of the leading retailers of eco-luxe diamonds, engagement rings, and fine jewelry that can be given for all occasions. Whether its for a proposal, a wedding exchange, or to show your significant other how much you love them, you can find the perfect piece just for the occasion! Each of Brilliance's diamonds is hand-picked by gemologists and their jewelry is manufactured in the United States by master jewelers. When shopping for the perfect jewelry item, Brilliance will guide you through the process with clear and honest advice to ensure that your choice reflects your personal style and preferences. Brilliance works only with the industry's most reputable and regulated suppliers of high-quality diamonds, adhering to a strict zero-tolerance policy against conflict diamonds. For more information on Brilliance, visit

www.brilliance.com

.