I am so far behind because of this stupid flu that will not let go of our families!! All the grandbabies have it. Oldest daughter has it, I had it..... DH is getting it. THIS is the second time around!! I less than 2 months?!?! COME ON!!!!! I cry foul!!
So I didn't do much giveaway huntin', but here is what I did find...........
I'm determined to win a play house for the Grandkids! Determined I tell ya!! This cute little Step2 giveaway is being held over at
Mommy of Two Little Monkeys
(9 days left)
Another Step2 item, how cute is this kitchen!?!? Want it! NEED it!! Honest I do... stop rolling your eyes at me!!
This giveaway is being held over at
Children Teaching Mama
(15 days left)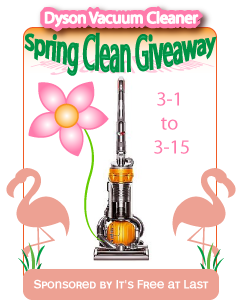 How about a brand new Dyson vacuum!! This wonderful giveaway is being held over at
Retail Therapy Lounge
(I wonder if they could deliver and maybe move the couch and clean under it?? It looks really scary under there!!)
(9 days left)
That's it for this week! Next week I'm on the hunt for a carseat giveaways!! So if you find one please come back with a link!! Thank you dhaaaling!